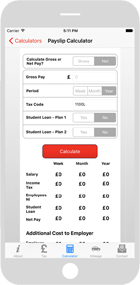 The Carbon Accountancy App provides you with all the very latest financial news sent to you every day, plus stock market prices, important UK Tax rate information, Tax Tips and key tax dates for the current and previous year, plus many useful tax calculators such as:
"Should I incorporate?" calculator
Company Car and Mileage auto-calculator for your work trips
Corporation tax
Payslip calculator
Inheritance tax
Stamp duty
Inflation
Self-employed tax calculator
VAT
Mortgage payment calculator
Capital Gains Tax calculator
Download this this app and you'll never be hunting for that tax information card you've put in a 'safe place'.
The handy Tax Tips area gives you categorised tips and ideas on how to reduce your tax bill together with news, events and services areas.
DOWNLOAD CODE WHEN ASKED IS 0816
App Download Links
iOS: https://itunes.apple.com/us/app/myaccountants/id1317268476?mt=8&ign-mpt=uo%3D4
Android: https://play.google.com/store/apps/details?id=uk.co.myfirmsapp.one.accountants
Download our app on: